Easily transfer data from iPhone to Android
Now, thanks to several dedicated data transfer software, Android to iOS data transfer support extends to all Android phones. How can these transfers be successful?
Why transfer data from iPhone to Android?
In modern times, with the development of computers and communication, the use of mobile phones has undergone great changes and this has had a great impact on people's lifestyles.
This effect is evolutionary in terms of the activity of all industries. When it first hit the market in the 1990s, many people believed that smartphones were primarily for business use due to their high cost. However, when Apple released the first modern smartphone in 2007, it quickly became popular among consumers.
Now Android to iOS data transfer support is extended to all Android phones, thanks to a few special data transfer software like Wondershare MobileTrans that helps you transfer some important data from iPhone to new Android. After you get your new Android phone, you need to follow the simple setup instructions to continue the data transfer process. You will be asked to connect your old iPhone to your new Android phone using the iPhone cable or wirelessly. There will be instructions to guide you through the entire process as you transfer your information.
Data transfer methods
There are two useful ways to transfer data from iPhone to Android or vice versa:
iCloud: After syncing your iPhone data with iCloud, you can use Smart Switch to transfer it to Android.
Note that this method does not transfer messages, iTunes music or videos.
USB cable: You can directly connect your iPhone and Android devices using your iOS cable and a MicroUSB to USB adapter. After this connection is established, launch Smart Switch on Android and start transferring data from iPhone.
Messages, music and videos can all be transferred this way (music and videos can only be transferred if they are not protected by DRM).
In addition to these two methods, you can also use a professional transfer software like Wondershare MobileTrans that will transfer all your data safely.
What are the features of Wondershare MobileTrans?
Wondershare MobileTrans will help you in the process of transferring your contacts, call logs, media files, as well as other data such as mobile operating systems. It will also allow you to back up your smartphone data to your computer in case you need to restore it in the future.
It also has features to get WhatsApp data from the source phone and transfer the chats by importing directly to the new phone, whether you are switching to iPhone or Android. It's an easy, safe process that only takes a few minutes.
You can also transfer photos or apps, songs, messages and videos from iPhone to Android freely. So data can be transferred selectively by just checking the boxes.
There are two main functions here:
· Function 1: Transfer data from iPhone to Android directly.
· Feature 2: Using computer backup for data transfer. (Transfer data from iPhone to computer first, then export backup from computer to Android phone.)
How to transfer data from iPhone to Android using MobileTrans?
Step 1 : Download and install MobileTrans on your computer. Connect both devices to the computer. Select "Phone Transfer" and "Phone to Phone" to continue.
Step 2 : Next, select the file to transfer and click "Start". You have the option to delete existing data before transferring it.
Step 3 : After a few minutes, the selected data will be transferred or copied to your Android device. Please do not unplug the devices while the transfer is in progress.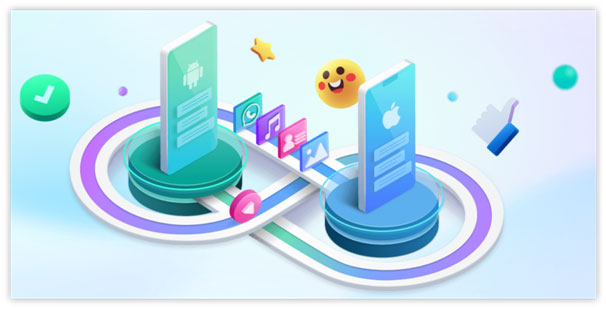 The result
By using Wondershare MobileTrans, you will have the opportunity to thoroughly test the versatile and reliable software. The latter has the most popular brands of smartphones and tablets running iOS and Android operating systems. It is a tool that allows you to quickly connect your mobile devices to your Windows or Mac computer.