With -40%, Samsung Galaxy Watch 5 is a super bargain on sale
Samsung's latest connected watch, the Galaxy Watch 5, is a good watch in many respects. And with winter sales, it's down to €196, down from €329 at launch.
Although the Pro model is better in terms of battery life, Samsung's Galaxy Watch 5 makes up for the shortcomings of the previous model. It turns out to be the ideal watch for anyone looking for a complete and accessible Android connected watch. Today, moreover, the price of the 44 mm model is 133 euros cheaper.
What to remember about the Galaxy Watch 5
A comfortable watch to wear
Advanced Features (Sports & Health)
Complete software catalog
The Samsung Galaxy Watch 5, which retails for €329, is listed on Amazon for €276.38 in its 44mm version (Bluetooth). However, using a €30 discount coupon and a €50 ODR, the watch costs only €196.38.
---
If the offer mentioned in this article is no longer available, take a look below to find other promotions for the Samsung Galaxy Watch 5. The table is updated automatically.
Where to buy

Samsung Galaxy Watch 5 at the best price?
Similar appearance, except for a few details
The Galaxy Watch 5 is inspired by the previous model and retains the round format (44mm here) with a sleek finish. It's also pleasant to wear and easily forgotten on the wrist. It has the advantage of having a more scratch-resistant screen (60% more durable according to the brand) and IP68 certification, which prevents it from being removed every time you take a shower or swim in a swimming pool.
On the display side, the 1.4-inch AMOLED screen displays a resolution of 450×450 pixels (Always On Display compliant). Otherwise, we find the WearOS operating system with the One UI Watch interface, which gives access to the Play Store directory. Thanks to the Exynos W920 chip, the interface is clear, simple and fluid on a daily basis.
A delicious recipe
The Watch 5 ticks all the boxes for classic smartwatch functionality. There's a sensor that measures body composition, an electrocardiogram sensor to track your heart rate, and another sensor dedicated to blood pressure. Sleep monitoring is still in play and snoring is detected.
On the sports side, it can detect more than 90 sports activities and has GPS, which was somewhat inaccurate when tested. The Galaxy Watch 5 packs a 284mAh battery, compared to the Watch 4's 247mAh. A slight increase that may last a day depending on your usage. After all, it only takes you 30 minutes to charge from 0% to 45%.
To find out more, we have a test on the Samsung Galaxy Watch 5.
7 /10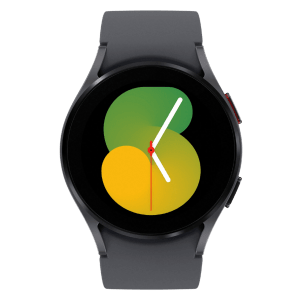 Winter sales: the best deals selected by Frandroid's editorial staff
The Winter Sales officially started in France on Wednesday 11th January 2023 at 8am and will end at midnight on Tuesday 7th February. At the moment, several merchants have drawn their best offers. Here are the best deals from our live sales.
Our picks by product category
Our picks by merchants
To make sure you don't miss out on any good plans for this event, here are some reflexes you should take now so you don't miss any of the suggestions we recommend:
Follow us on our twitter account @FrandroidPromos dedicated only to good deals (don't forget to activate the call to receive real-time notifications)
Download our Frandroid app (available on iOS and Android) to enable notifications from the "Good Deals" category and get new 2023 Winter Sale items in real-time.
Subscribe to our Good Deals newsletter (multiple emails per day, 1-click unsubscribe, distribution to third parties) to make sure you get the deals firsthand:
---
Help us build the future of Frandroid by answering this survey!