Is the glass half full or half empty? (part 2)
Experience teaches us that financial markets are rarely in equilibrium, so they have internal volatility. Obviously, the longer bullish periods last, the more investors believe the trend will continue. This came at the end of the longest bull market in history, which spanned 2009-2021. When we wrote our book in 2021, we were concerned about overvaluation stocks: "As we know, there is such a thing. frequent discrepancies between stock price evolution and fundamental economics. It is at such times that stock prices can reach reasonable levels relative to the historical perspective" (Chapter 33, How to See Storms Approaching, p. 177).
Click here for a larger view of this table
This is shown by the data in the table above. During a boom, investors are willing to pay more for increased profits. They even go that far overpaying for long-term growth potential. But how much longer? This is the key!
We all know that Price/Earnings (P/E) valuations of "growth" stocks are always higher than those of "value" stocks, and that's normal. But what is important is to compare their evolution (and deviations) over time with historical averages as shown in the table. For example, the P/E ratio of 23.1X for "growth" stocks in 2019 was 20.9% above their 20-year historical average (19.1X). As for "value" stocks, their 15.2XC/B only surpassed their historical average (13.6X) by 11.8%. Therefore, it can be concluded that the US stock market is reasonably priced in 2019 for both "growth" stocks and "value" stocks.
The tech companies of this world, Facebook, Google, Apple, Amazon, Netflix and Microsoft have certainly revolutionized their industries. These companies have enjoyed impressive growth rates over the years, which has translated into strong stock market performance that justifies higher valuations.
However, lower interest rates in 2020, combined with the impact of the global economy's general shutdown until 2021, have created a significant bias in favor of "growth" stocks. At over 30X earnings (P/E), they are over 65% overvalued relative to their historical average over the past 20 years. These two years have clearly demonstrated a surplus market for the "growth" sector and a sign of the impending end of this trend.
Consecutive interest rate hikes sent equity markets lower in 2022, pushing valuations back to more normal levels. Growth stocks are now trading at a P/E ratio of 21.1X, which is close to the historical average (18.6X). As for the "value" stocks, their 2021 valuation of 15.8X was close to the historical average (13.7X), which explains why they better resist the 2022 stock market correction and end the year with a P/E ratio of 13.9 explains what they hit. X.
The US stock market's P/B valuation, as represented by the S&P 500, is currently 16.7X, compared to a weighted average of 15.5X over the past 20 years. Is the glass half full or half empty?
Barring a severe contraction in the economy in 2023, the US stock market could rally on the back of expansion in valuation ratios or expected earnings growth in the coming quarters. In 2000-2006, "value" stocks prevailed. Growth stocks have been the best performers since the financial crisis of 2008-09, as can be seen in the chart below.
During this 15-year period, "growth" exceeded "value" 10 of the 15 years. First of all, we note that the outstanding indicator of "growth" lasted for 5 consecutive years at the end of the period from 2017 to 2021. A harbinger of a 2022 growth stock failure represented by tech stocks?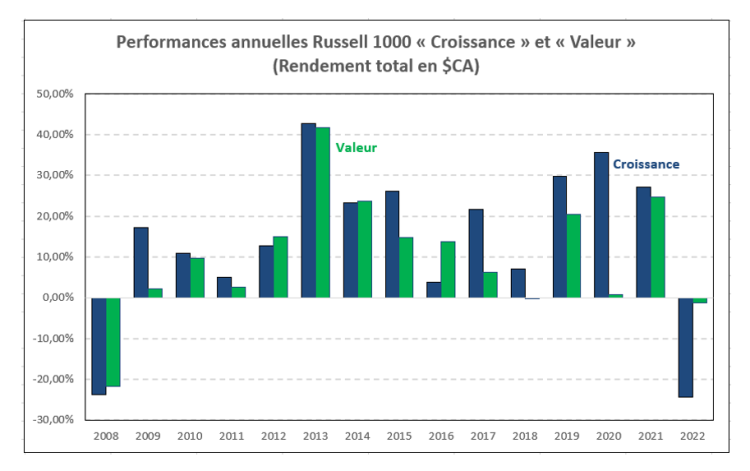 Click here for a larger view of this table
In conclusion, it is difficult to predict which capital categories will dominate in the next phase of the cycle. Applying management discipline in rebalancing and diversification across the two main categories of securities (value growth) remains the best guarantee of results for the investor. Recall that over the long term (1926-2022), large-cap US stocks (S&P 500) returned about 10%. We must always put the return in historical perspective and ask ourselves whether the situation observed in the short term is sustainable over several years. Valuation coefficients remain an important indicator, and their current level allows to look optimistically at the sequence of events. Meanwhile, volatility influenced by the evolution of inflation and interest rates will remain an important factor in the coming quarters.