Create and manage your contests on Instagram, Facebook, Twitter and YouTube
Contests have been around since the dawn of the internet and have become more democratized with web 2.0. They are still at the heart of many brands' marketing strategies for revitalizing their communities or creating virality. Pickaw is the benchmark French solution that allows you to easily manage your contests and automate the management of draws on all social networks. Unlike many competitors, Pickaw can also manage contests on Instagram and takes into account the Reels format, which is very popular on the network.
Try Pickaw
Even manage your contests on Instagram
Pickaw continues to innovate and expand its offering by allowing brands to create and run contests on Instagram. Widely used by brands in many sectors, Instagram contributes particularly well to competitions: visual publications, 2 billion users worldwide, a much higher participation rate than Facebook, and users who love these mechanisms very much.
Competition opportunities include:
Write a comment on the post
Tag friends
The best headline at the bottom of the post
Using a specific hashtag or keyword in comments
All these interactions increase the virality and visibility of your contests and therefore your brand or products. But it's important to use the right tools to be efficient and save time in determining contests, sweepstakes, and winners. All participants, all comments, retweets, subscriptions, etc. it can get complicated quickly. Pickaw makes managing your contests simple and central across all your social spaces.
Try Pickaw
Easily create and schedule a contest
Pickaw offers Contest Builder, a complete and powerful contest creation tool. It allows you to create a contest in a few clicks and manage it entirely from the platform. The creation of the competition is carried out in a few very simple steps: determining the date of the announcement of the competition, the end date and the number of winners, whether to exclude previous winners, manual verification of the winners (allows to check that they have fulfilled all the conditions to win), automatic drawing. ..
After the competition is set up, it is enough to create its content. Again, everything is done very simply with a few clicks. You can choose the account where the contest will be broadcast, create a contest message stating the terms and prizes to be won, and add visuals (1 video, 1 GIF, or up to 4 images).
You can also create a final post that will automatically be published in response to the main post at the end of the contest, and a winner announcement post that will be automatically published in response to the main post.
Several "actions" can also be configured to confirm the user's participation in the contest. You can then confirm participations only when the participant reacts to the post or comments on the post. You can even set mandatory keywords in comments.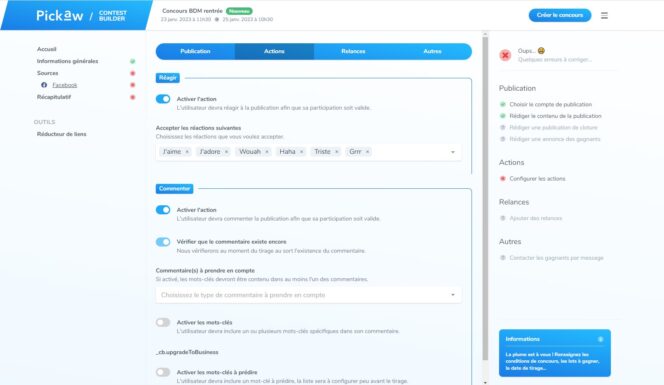 Pickaw also allows you to create follow-ups to give your competition more exposure. Therefore, these reminders will be published automatically on the specified dates and with the messages you choose.
After the contest is configured, you can activate the automation of the winners' contact: they will immediately receive a private message. You can get access to a preview of the message to check that there are no errors before running it.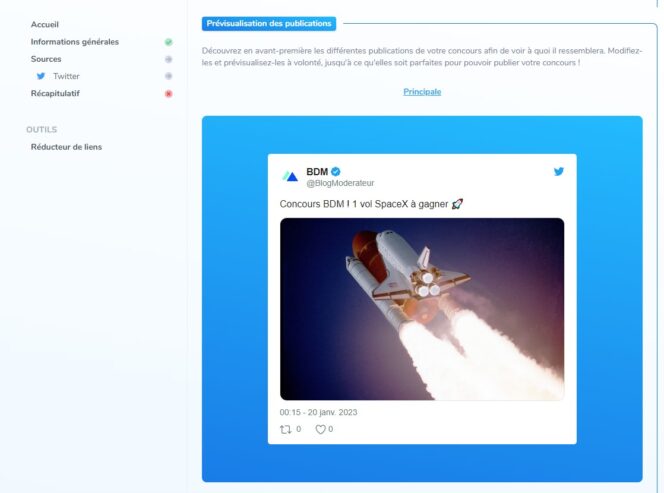 Manage your contests across all social networks
The main strength of Pickaw is to adapt to all networks: Facebook, Twitter, YouTube and Instagram. The tool can even handle Instagram reels and fits perfectly into existing mechanics. So you can manage all your races on the same platform.
Bonus: the quick draw feature allows you to import your contest into Pickaw even if it wasn't created through the platform to manage the draw.
Another advantage of Pickaw: managing draws. The tool offers a very high level of draw quality: anti-competition filter, test draws, random control, manual draw check, anti-robot filter, account exclusion… With Pikaw, draws are conducted according to the rules and access to the public verification page is possible to prove the authenticity of the results. A true trust for your community.
The platform is very well thought out to manage your contests and adapts to all the needs of marketing professionals. Several paid plans are available and range from €19 to €499 per month depending on features. For brands that make heavy use of this mechanic, the tool is essential very quickly.
Try Pickaw
Pikaw is organizing a webinar on Thursday 26 January to learn more about the organization of competitions, good practices and legal aspects to be respected. In the program of this event: legal procedures for the organization of competitions, data collection, co-marketing and partnerships, mechanisms and available measures…
The webinar will be moderated by Pickaw CEO and President Thomas Reichling, Hyundai Social Media Manager François Olivier and attorney Cathy Solagna.
Register for the webinar