Samsung 990 Pro SSD review
Before drawing a line under the past and a generation that will see SSD speeds really explode when Sony implements PCI Express 4.0 models for the PS5, Samsung brings us the latest model as a tribute to this generation. turning point in the debit race. Does the 990 Pro live up to expectations and its predecessors? The answer is immediate.
Summary
Samsung 990 Pro NVME M.2 SSD Review and Specifications

XXL performance

So, how much is this Samsung 990 Pro worth in practice?
Samsung 990 Pro NVME M.2 SSD Review and Specifications
The successor to the 980 Pro (Gen 4) and 970 Pro (Gen 3), the Samsung 990 Pro NVME M.2 SSD was originally intended to be the host of Gen 5 on PCI Express 5.0. On this occasion, and as always, the Korean manufacturer has developed an internal controller called "Pascal". On Samsung's side, everything seemed ready to fully launch Gen 5… meanwhile, shortages of many electronic components, as well as COVID, slowed down production and therefore adoption by the general public during this period. new generation.
In this context, Intel has thus decided to leave the latest 13th generation processors, which are compatible with both PCI Express 4.0 and 5.0, which are unlikely to change the motherboard in the near future. There was no point in releasing a Gen 5 SSD (hence more expensive) in the near future, and the 990 Pro finally backed off to satisfy everyone by settling for PCI Express 4.0, but sublimating it one last time.
| | |
| --- | --- |
| | Specifications |
| Compatibility | PC (M2 NVMe PCIe Gen 4), PS5 |
| Reading speed | Up to 7450 MB/s |
| write speed | Up to 6900 MB/s |
| IOPS (Input-Output Per Second) | 1,550,000 IOPS |
| Endurance | Up to 600 TB |
| Guarantee | 5 years |
| Starting price | 199.99€ |
Buy the Samsung 990 Pro NVMe M.2 SSD at Amazon
Buy a suitable cooler
XXL performance
We are not going to dwell on the design of this 990 Pro, it looks like two drops of water to its elders, 980 Pro and 970 Pro, the same size (22 mm wide for 80 mm long), the same thinness, short, Whether on PC or PS5, you'll have no problem integrating this model absolutely anywhere.
For Sony console, if the "Heatsink" version is ok
is referred to
there is no trace of the latter on the Samsung website dedicated to semiconductors, in stores or online sales sites. However, contrary to what Sony claims, it is quite possible to use this SSD as is, as it is perfectly compatible with the PS5. A sticker affixed to the top and bottom of the SSD sinks heat, and dynamic temperature management protects the SSD from possible overheating.
After that, if you really want to put luck on your side, adding a small extra physical cooler will cost you more than €8 anyway. A reasonable investment if you fear that Sony will limit the performance of the SSD.
So, how much is this Samsung 990 Pro worth in practice?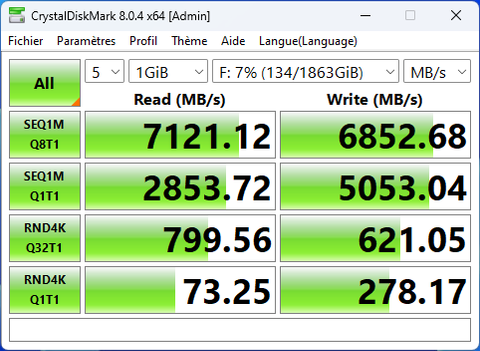 As you can see in the screenshots above or below, during our various performance tests under CrystalDiskMark or the built-in Samsung Magician software, The symbolic bar of 7000 MB / s was clearly exceeded, because we reached XXL performance of 7121 MB / s in reading (7450 ​​MB / s declared) and especially 6900 MB / s for the declared theoretical speed of 6852 MB / s.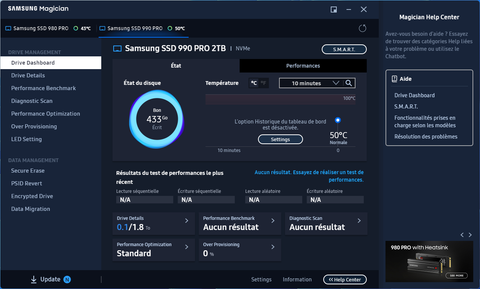 On copies of files, either on a single file or a folder with multiple files we hover between 2.5 and 3 GB/s fairly consistently. On the temperature side, we recorded a peak of 26 degrees at rest and 53 degrees at full load. Still, it's all good.
Finally, a quick word about the Samsung Magician program, which is still complete and easy to use. Not only will you be able to update software when needed, but you'll also be able to run diagnostics or choose to optimize performance based on your usage. Simple, complete and effective.
Buy the Samsung 990 Pro NVMe M.2 SSD at Amazon
Buy a suitable cooler
The result

Strong points
Extreme performance
Do not overheat
Compatible with PC and PS5
Ahead of the arrival and generalization of PCI Express 5.0 models, Samsung offers us the best to finish off the PCI Express 4.0 range in style with this 990 Pro. Here, the symbolic bar of 7000 MB/s is completely crossed, where its predecessor, the already excellent 980 Pro, had to settle for real numbers around 6500 MB/s. There are no reservations to upgrade PC or upgrade PS5 storage. (in the heatsink version or with a third-party cooler) you will offer your car the best possible travel companion.
This page contains links to some of the products BM has selected for you. Each purchase you make by clicking on one of these links will not cost you, but eCommerce will pay us a commission. The prices shown in the article are the prices offered by the trading sites at the time of publication of the article, and these prices are subject to change at the sole discretion of the trading site without notice to BM.
More details.