How to sync iPhone or Android smartphone with your computer?
Intel has introduced a new Unison app for Windows that lets you control your smartphone and sync it with your PC. Here's everything you need to know to get started.
Last September, Intel announced its intention to offer a new utility to control your iPhone or Android smartphone on your computer. Intel Unison, that's its name, is presented as a universal solution for transferring files, managing photos, sending messages or making phone calls, or even synchronizing mobile notifications on a computer.
Long before Intel, other manufacturers or software publishers looked at this kind of solution, but never succeeded in offering a tool as effective as Android and iOS. Microsoft has tried to penetrate this space with its Mobile Connected app, but the latter only works with Android, limiting some of its features to certain smartphone models.
With Unison, all that must change. Now complete, the utility was officially unveiled by Intel at CES in Las Vegas. The app, which can already be downloaded from the Microsoft Store to a computer, requires the installation of a companion app on Android or iOS. Intel makes a simple promise with its tool, which is to offer a solution that works with any mobile device.
It is already installed on some machines with 12 Intel EVO processorse generation, the program is a priori designed to be embedded natively on PCs equipped with the 13 EVO chip.e generation. So, Intel Unison only works on computers equipped with an Intel processor, but it is not really limited to the latest processors. The only requirement to control your iPhone or Android smartphone from your computer is that the processor running it is manufactured by Intel, that's all.
Where Intel Unison differs from competing solutions is that the features it offers work with both iOS and Android. You can use it to transfer files between your computer and your smartphone or even access your smartphone gallery on your computer. The utility will allow you to read and send messages and even make calls with your mobile number directly from your computer. Finally, all notifications received on your smartphone will also come directly to your PC, so you don't need to take your eyes off your computer screen to consult your smartphone.
1. Download Intel Unison software
Start by downloading the Intel Unison software to your computer. You also need to download a special app on iOS or Android to connect your machine to your mobile phone.
2. Prepare Intel Unison on your computer
Open the Intel Unison program on your computer and press the button Accept and continue displayed on the home page.
The application should then ask you if you want to Share event data and statisticsbefore showing a QR code you will need to scan from smartphone to connect it with PC.
3. Pair Intel Unison with your smartphone
Launch Intel Unison on your iPhone or Android smartphone, tap Accept and continue to skip the welcome screen and choose whether to share incident data and statistics. Then click Let's go.
The purpose of the application is to connect your smartphone's data to your computer, which requires a certain number of permissions. To use it, you need to allow access to your contacts, all photos, search for and connect to devices on your local network, or use your Bluetooth connection.
Once all these permissions are granted, click Scan the QR code to activate your smartphone camera. Give it access to the camera, then scan the QR code displayed in the Intel Unison window on your computer.
After that, you should be asked to verify your device by comparing the code displayed on the computer and smartphone screen. Then click Confirm Confirm the Bluetooth pairing by confirming the connection on the PC, then on the smartphone as well as on the PC.
To give, you must have a final permission to access smartphone notifications from your computer. After all these steps are completed, the window let's get startedwhich groups all possible actions in Unison, is displayed.
4. Allow access to Messages on iOS
During the initial installation of Intel Unison on iOS, the app does not require access to messages like the rest of your smartphone data. So by clicking on it Writings in the application window, you will not see the conversations from your smartphone appear on your computer. For this, Intel Unison requires you to enable another option related to previously managed Bluetooth pairing between PC and iPhone.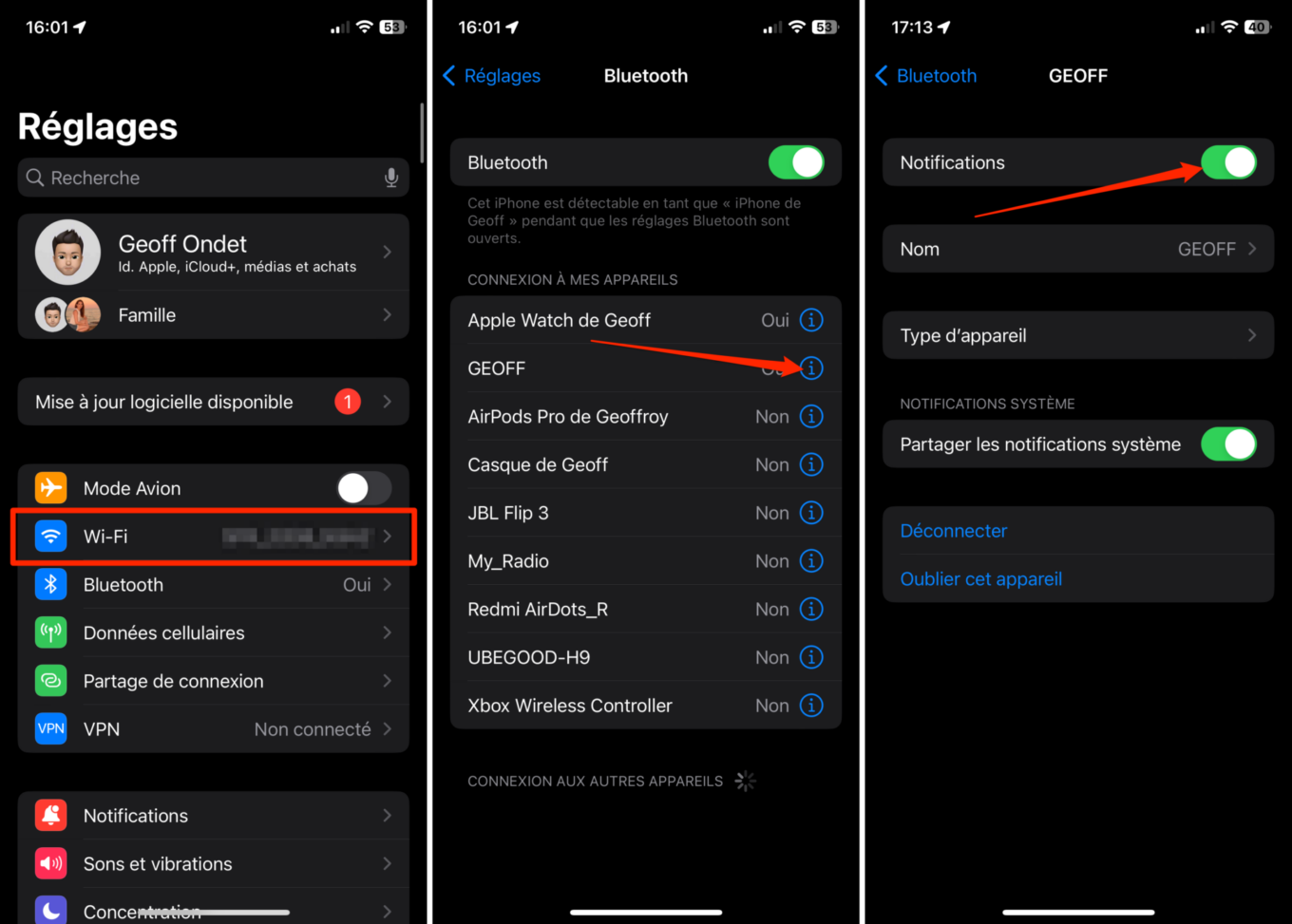 need to be opened Parametersthen enter Bluetooth" to access the pairing details.I", before finally activating it Notices.
You should then be able to access your iPhone messages from your computer.
No problem on Android, all requests for authorization will be automatically requested during the first configuration of the application.