The best marketing advent calendars in 2022
Is your Instagram feed also full of marketing advent calendars? ???
In this pre-Christmas article, we offer you our best "marketing" advent calendars for 2022. Directions, accommodation providers… Tourism players have great ideas, get inspired! ?
First of all, what is a marketing calendar?
? The marketing advent calendar is a digital campaign run by a brand during the month of December. It often resembles a promotional game technique that allows you to organize a contest, in other words, to revive relationships with customers and prospects, work on image and / or gather profiles of participants ?
More and more creative places to trick travelers
In Avra ​​we play games of chance…
The first initiative comes from Eure Tourisme. Presents the second edition of the arrival calendar for destination purposes Highlight Eure and its social-professionals.
? Thought? "Discover the gourmet specialties, places to visit and places, as well as the know-how, of our local companies. »
? Gifts? Iconic sites, guests, workshops, activities, etc. many prizes including entries for
? Support? Here, the calendar is placed on a special micro-site and uses 3 different mini-games (Wheel of Fortune, Lucky One, Jackpot). Created with Social Shaker. This tool is designed to create, manage and track all your contests on social networks and on your website. It includes over 30 ready-to-use and customizable mechanics ?
We travel 24 days with La Ciotat!
Second venture and this time we are going to the south of France, La Ciotat! Well, no, by the way, that's not really our goal… Since this year, La Ciotat decided to make us travel the world while staying close to home ?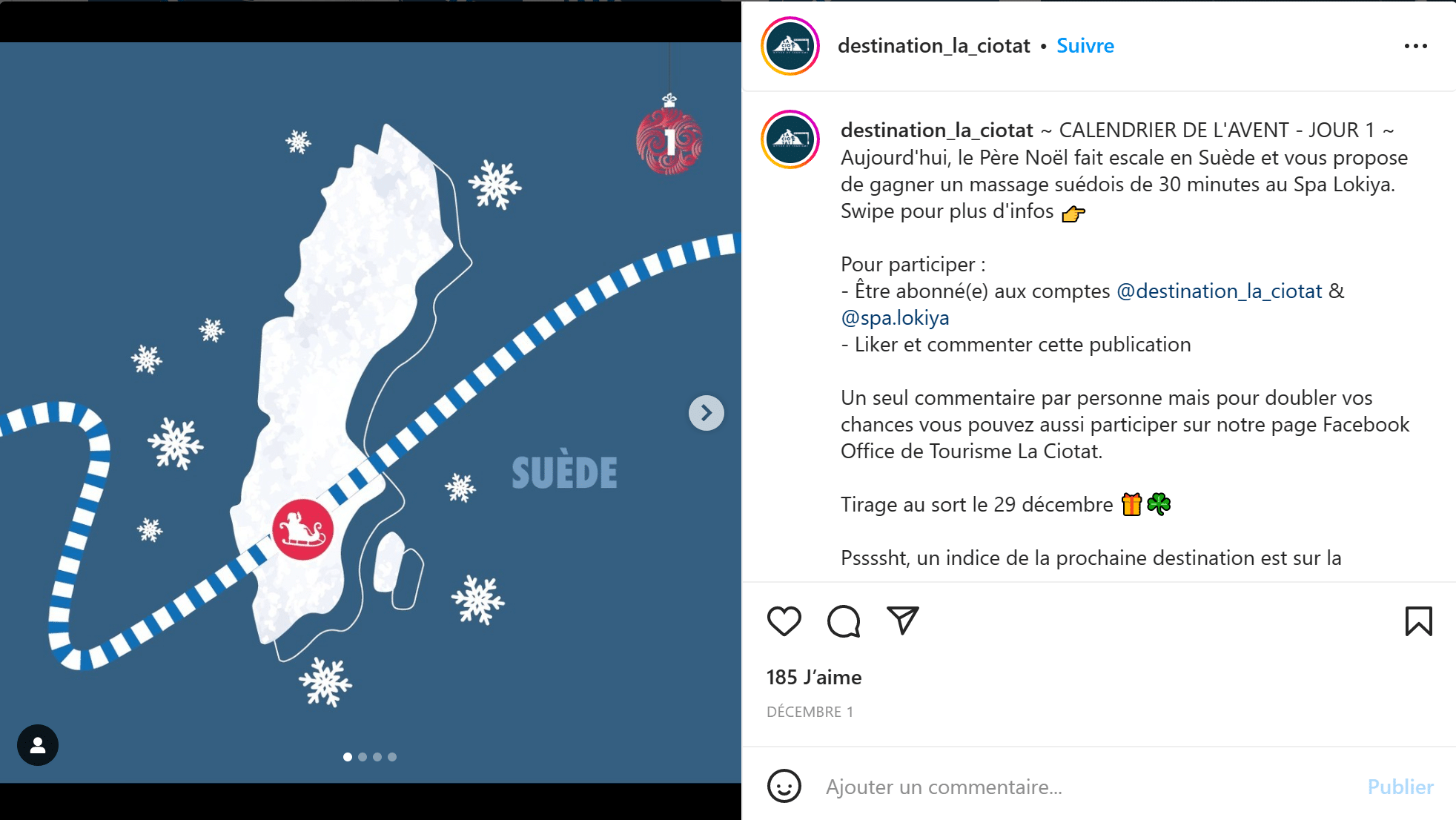 ? Thought? From December 1 to 24, Santa Claus stops in 24 countries in the social networks of destinations with the cooperation of a merchant from La Ciotat.
? Gifts? A day = a service that makes you travel. In the program: Swedish massage, dinner in a Chinese restaurant, 100 free beers in an Irish pub…
? Support? The calendar is a "classic" contest organized on Facebook and Instagram. The use of social networks is of double interest: easy to join for the user and these contests allow you increase your vision. However, be careful with this simplicity because you also run the risk of getting an audience that isn't always the best quality…
A coup for Switzerland Tourism's year-end communication
Everyone knows in Switzerland: they have beautiful lakes and landscapes in all seasons, but also a very inspiring marketing team! This year, they put the package on the advent calendar ?
? Thought? The concept of "Where's Charlie?" inspired by the game. ": The Internet user should find the current history in a dynamic image depicting various characteristic elements of Switzerland: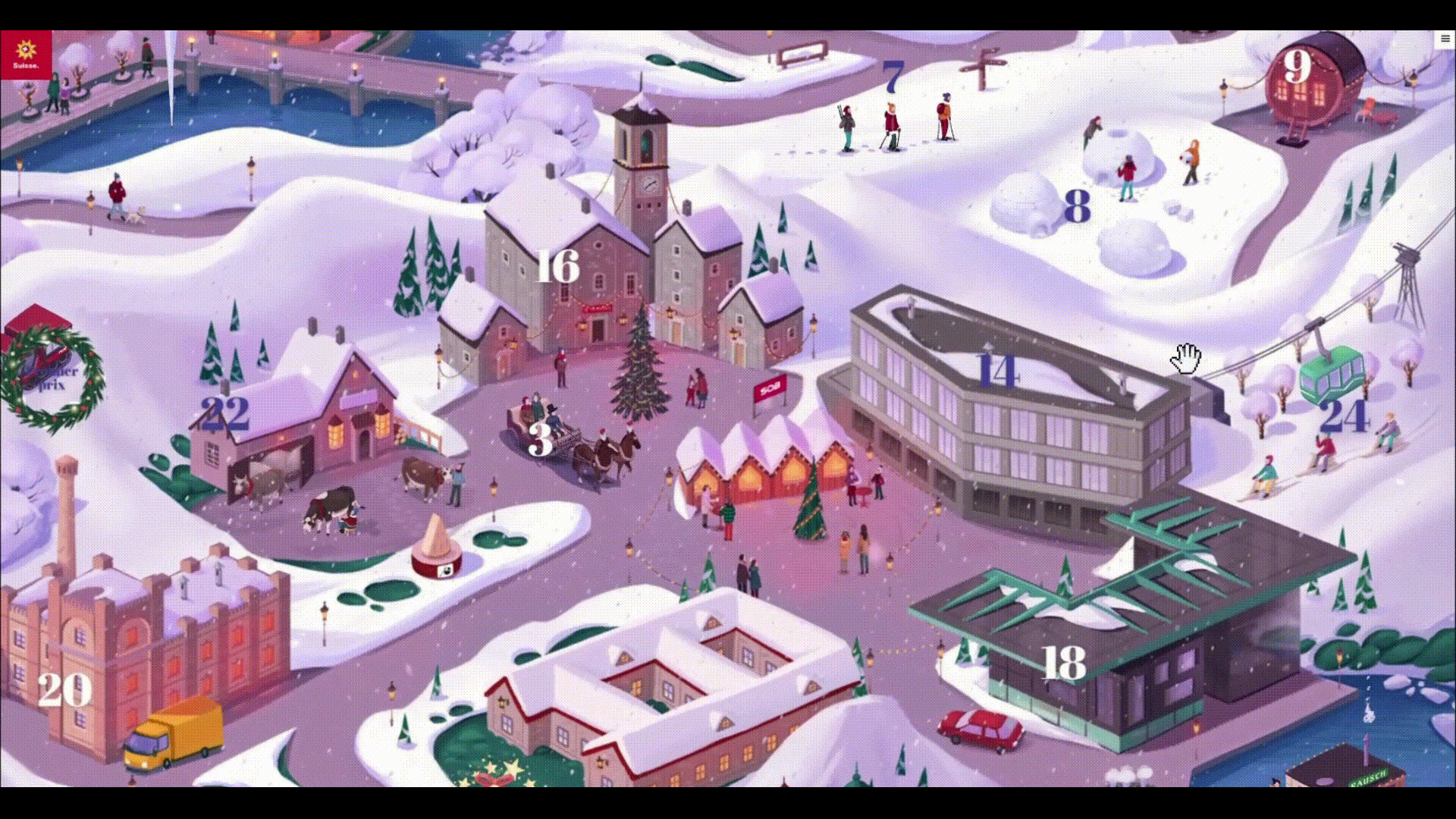 Using the form, they can then participate in the daily draw ?
? Gifts? As in the previous two calendars, Switzerland Tourism highlights service providers and more "winter experiences".
? Support? The calendar is posted directly on the destination's website. The advantage with this type of web format is also being able to offer subscribe to the newsletter. With each participation in the calendar, Swiss Tourism also gains a contact on the buyer list.
➕ Small bonus? Participation entitles you to a 30% discount on the Swiss Coupon Pass exclusive offer booklet from the Swiss Travel Center.
However, we regret a little the lack of communication around the initiative: we could not find any information about this calendar on the various social platforms used by the destination ??
Great ideas from tourist service providers
Who says you have to offer a "paid" gift to organize an Advent calendar? ?
Some of these sympathetic initiatives of our esteemed tourist accommodation providers :
La Roucoulade, a Slow & Chic gîte near Aix en Provence, shares a partner with us every day (catering, bike rental, institute, welcome gift, etc.). It is a great way to highlight not only the various services offered nearby or within the confines of the gîte, but also the little attention given to guests.
The Hôtel de la Plage in Saint-Nazaire chose a different option: a day, a box, a quiz about the hotel and its history! It's a good idea to remind you of your assets and services when interacting with the community ?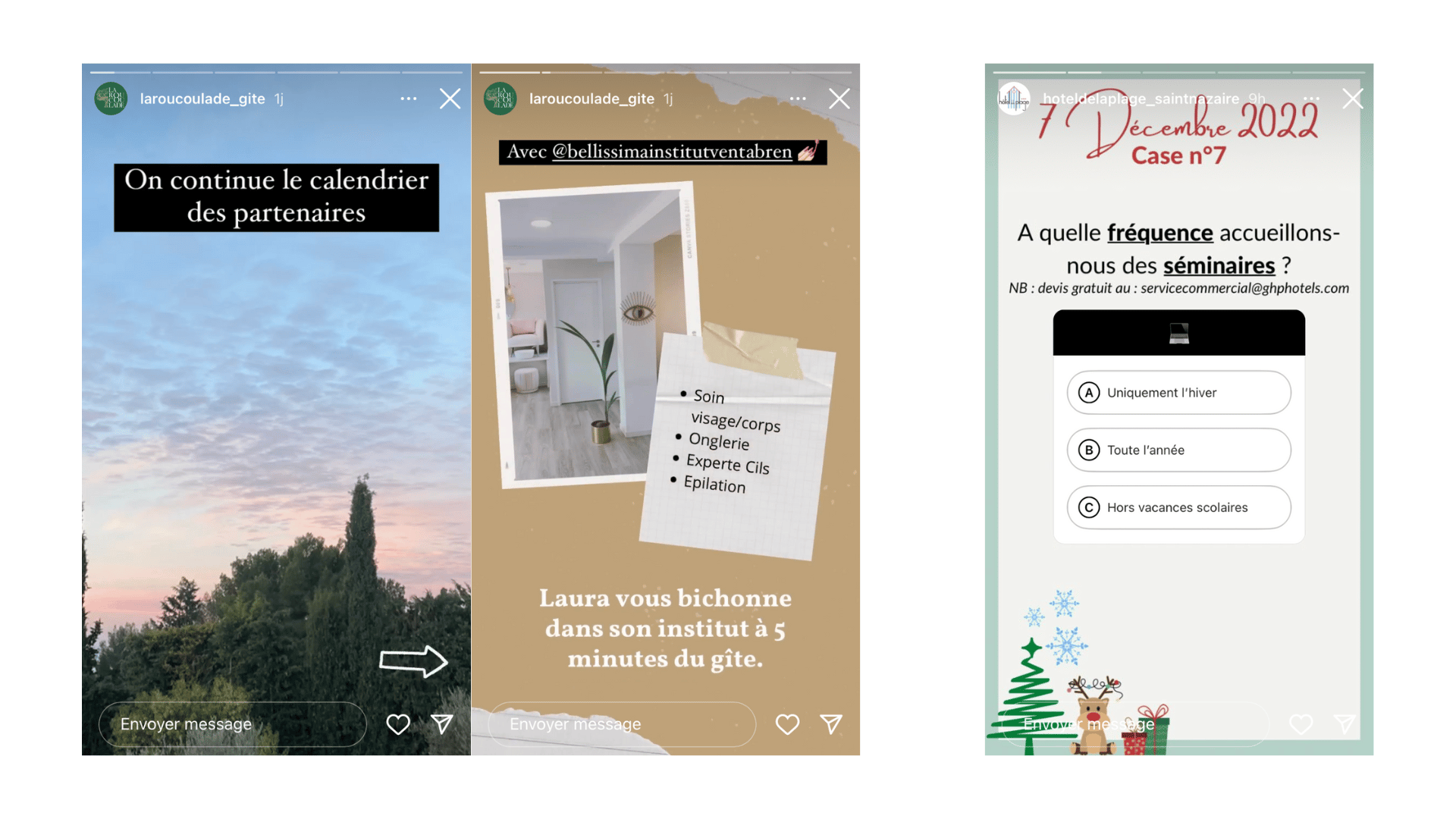 What elements should be kept in mind for a successful advent calendar?
there is purpose : An Advent calendar or any contest game should meet a well-defined goal: increase engagement rate, gain followers, collect information, support an event, promote one or more product(s), etc. ?
choose a mechanical : a very complex mechanism may not have the expected success. Example: if you ask your followers to take a picture with a message to describe your brand, specifically ask them to memorize the information, get a piece of paper, a pencil, write a message, take a picture, and then Share it. Bet on simplicity for more interactivity!
Find it an idea that fits your core business and the values ​​your structure carries : Avoid giving gifts that have nothing to do with your brand. The calendar should make sense to your followers and why they follow you ?
Anticipate logistical aspects : Consider programming through the Meta Business Suite to make managing your Social Media calendar easy! Don't hesitate to schedule all your posts and/or stories and automate their distribution ? Another important logical point: if you win giveaways for participants, make sure you can deliver the products (even across borders) ?
Write a charter : it is important to structure the rules of the game, especially including the details of the prizes, the service providers involved, the method and date of the draw… If you are making large amounts (+ €500), consider calling. specialized bailiff ?
The result
In conclusion, we can say that the tourism sector proved itself this year creative, innovative, yet strategic in creating marketing advent calendars. Of course, other sectors also had great ideas: we are especially thinking about our little favorite, the 1% For The Planet solidarity calendar ? We hope that this small selection will inspire you for the coming year and continue our various offers. take note of the tips!
We almost forgot to tell you about our calendar © Guest and Strategy:
In the program of our 2022 arrival calendar: every day an action to help tourist accommodation providers professionalize their management. To end this campaign, starting tomorrow, our viewers will be able to use an e-book summarizing all these actions. We'll set you up on Instagram and Facebook to find out ?
Happy holidays to all etourisme.info community ?????