Can we still foresee a soft slowdown for global growth in 2023?
Can we still foresee a soft slowdown for global growth in 2023?
There is no doubt that the current global macroeconomic environment is challenging. 2022 has been a particularly challenging year for market participants as the harsh realities of weak activity, high inflation and geopolitical polarization become more apparent. This led to gloomy economic forecasts and negative movements in asset prices.
Most analysts and investors remain pessimistic about the evolution of the macroeconomic situation. Bloomberg's consensus forecast points to global economic expansion of 2.1% in 2023 after several declines, well below the long-term average of 3.4%. This means that the world economy can be classified as a "recession" if the 2.5% threshold set by the International Monetary Fund is used to define a global recession.
Global GDP growth forecast for 2023
(annual growth,%)
Sources: Bloomberg, QNB analysis
However, at the dawn of the new year 2023, it is safe to say that a large part of the negative events have already been digested and assimilated. In our view, the previous tapering phase led to excessive pessimism about the weak growth outlook. We therefore expect the global economy to grow by 2.6% in 2023, with all major economies growing faster than most analysts expect. The Bloomberg Consensus is a tool that tracks global forecasts from analysts, think tanks and research institutions, providing a range of forecasts as well as the midpoint of market expectations.
GDP growth forecast for 2023 by major economies
(annual growth,%)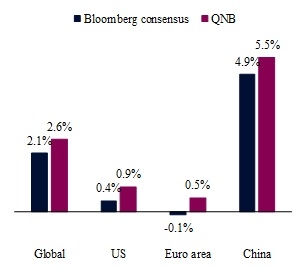 Sources: Bloomberg, QNB analysis
Three key factors support our slightly more optimistic view of the global economy for 2023, which includes the US, the eurozone and China.
First, growth in the US, the world's largest economy, is expected to weaken further to 0.9% in 2023 from last year's 1.5%, but the performance will be stronger than most analysts expected. The US economy is expected to maintain stability despite continued monetary policy tightening, with the Federal Reserve System (FED) expected to raise its key rate to 5.25-5.5% in the first quarter of this year. In the United States, which accounts for about 70% of the country's GDP, consumption is particularly healthy, with households showing high levels of available savings ($15.8 trillion). This should continue to support high levels of household spending on services, robust labor markets and therefore private sector investment, thus putting a cap on overall GDP growth.
As for the Eurozone, the slowdown is expected to accelerate in the first half of 2023 and turn into a recession in the region, but it should be shallower than expected. At the time of writing, the energy crisis has been less severe than expected thanks to a milder-than-expected winter, more efficient energy-saving mechanisms and higher gas inventories since last summer. Fiscal policies should remain flexible to support increased subsidies and direct transfers to vulnerable industries, households and regions. In addition, the European Central Bank (ECB) will have to continue its dual policy of tightening rates to fight inflation and reallocate quantitative tools to provide a safety net for highly indebted eurozone sovereigns, especially in the southern part of the continent. Recovery should begin in the second half of the year, but this may be limited by the persistence of energy shortages, which may be more pronounced next winter.
Moreover, after a year of subdued activity, China should once again become the engine of global growth. China's economy has underperformed in recent quarters due to an early withdrawal of stimulus policies, "Zero Covid"-style policies, a crackdown on real estate activities, tighter regulations for several industries and growing geopolitical polarization with the United States. However, China needs (i) more supportive fiscal and monetary policies, (ii) gradual exit from Zero Covid policy, (iii) support for the struggling real estate sector, (iv) regulatory clarity in more industries and (v) rapprochement with the US. Taken together, these five areas should revive activity in the country, leading to our above consensus forecast of 5.5% GDP growth in 2023.
Overall, the global macroeconomic environment remains challenging. However, overly pessimistic expectations miss important elements of macroeconomic strength, such as a robust private sector in the US, a stronger euro zone and a resurgence in Chinese growth. Therefore, we believe that a soft landing at the global level is still possible.