2023 Brave winds to achieve their goals
>> UOB maintains Vietnam GDP growth forecast at 6.6%
>> Vietnam targets 6% export growth in 2023
>> 2023, the "key year" in the implementation of the five-year goals
In the context of many changes the world is experiencing, it is extremely important for decision-making to correctly identify the opportunities as well as the challenges and challenges and to identify appropriate response plans to realize the growth objectives. .
Gross Domestic Product to 3e In Q2 2022, Vietnam saw a strong rebound with a double-digit growth rate (13.67%).
Photo: VNA/CVN
one "vote of confidence" Special for Vietnam
In the first 11 months of 2022, Vietnam's economy has maintained a good recovery rate.
Gross Domestic Product (GDP) to 3.e Quarter 2022 saw a strong rebound with a double-digit growth rate (13.67%) compared to the same period last year.
However, towards the end of the year, the fact that many important indicators have shown a downward trend since November indicates that the impact of the global economy on the domestic situation is beginning to show itself.
According to the report of the Ministry of Planning and Investment, signs of recession have been observed in a number of socio-economic indicators, sectors and markets since November.
There are signs of slowdown in industrial production. Reductions in manpower, working hours and part-time redundancies, as during the prevention and control of the COVID-19 epidemic, have re-emerged, especially in labor-intensive industries and in textiles and clothing, leather and footwear, woodworking and other key export industries. electronics.
In addition, absorption of public investments remains low. In 11 months, it is estimated that only 58.33% of the plan set by the prime minister has been achieved. This created a paradox: in the absence of capital in the economy, significant public resources could not be used to create levers for development.
World Bank (WB) chief economist for Vietnam Andrea Coppola said. "The COVID-19 pandemic has caused long-term damage, and the combination of the pandemic with additional shocks is weighing on the global economy. According to forecasts for 2023, global growth may decline sharply".
Three main factors affecting the global economy in 2021 could have a negative impact on global economic growth in 2023.
These include persistent inflationary pressures, challenging financial conditions and slowing economic growth in China and other major economies.
A weak global economic outlook and rising risks may affect Vietnam's economy in terms of exchange rate pressures, financial sector weakness and higher inflation and slower economic growth in 2023.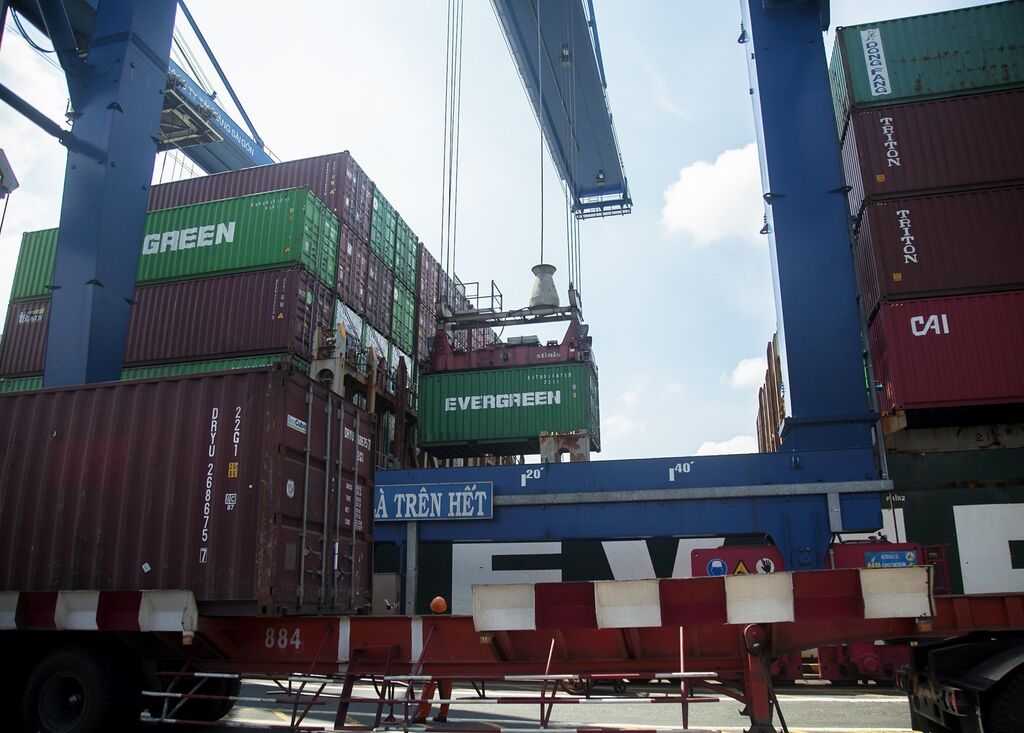 The outlook for Vietnam's economy remains very positive in the medium to long term.
Photo: VNA/CVN
Therefore, the Vietnamese government has a very difficult task and an important role to play in reducing the impact on the Vietnamese economy and turning this difficult situation into an opportunity for modernization.
Unexpected fluctuations in the world are considered "head winds" By Andrew Jeffries, Country Director of the Asian Development Bank (ADB) in Vietnam, the Vietnamese economy is facing.
With a sound economic base and the right direction, Vietnam may face headwinds in 2023. The outlook for Vietnam's economy remains very positive in the medium to long term, and the inflow of foreign direct investment (FDI) is a vote of confidence for Vietnam, he said.
Pursue economic goals with determination
According to the Ministry of Planning and Investment and experts, the inadequacy and limitations of the economy, as well as the global context in which many negative events have arisen, including many unprecedented new problems, have created a major problem. A growth target of 6.5% and an inflation control target of 4.5% by the National Assembly.
In Vietnam in 2023, advantages, opportunities and difficulties, problems are intermingled. Inflation, interest rates and exchange rate pressures remain high. Prices of crude oil, basic raw materials, production factors will continue to fluctuate strongly and production costs will increase. Many companies face the risk of reducing production and operations, especially in the context of multiple difficulties in obtaining and raising capital and labor issues.
The situation in the world and in the region is also expected to face many obstacles, especially the strategic competition between the great powers and the conflict between Russia and Ukraine. The upward trend in inflation and interest rates, the tightening of monetary and fiscal policies in many countries continues, leading to many potential risks and uncertainties.
It seems that the world economy is in a particularly difficult period when it has to face two very difficult problems at the same time, i.e. economic slowdown and high inflation.
During his speech at 5e At the Vietnam Economic Forum held in mid-December, Prime Minister Pham Minh Chinh emphasized that maintaining macroeconomic stability, controlling inflation, promoting growth, ensuring the basic balance of the economy, and promoting growth are the priorities of socio-economic development.
However, the new year requires us to prepare our minds, to be ready to meet all risks and challenges properly, to be more persistent, to redouble our efforts, to act more persistently and efficiently, he said.
In terms of monetary policy, the head of government called for the implementation of a safe, active, flexible and effective monetary policy, the implementation of a reasonable and targeted fiscal policy, and the coordination of policies to ensure overall efficiency. It is necessary to ensure liquidity in the economy, substantial credit growth and eliminate bottlenecks in capital flow.
NDEL/VNA/CVN