How to use a dedicated server for American Truck Simulator and Euro Truck Simulator 2
A feature that the gaming community has been waiting for since the arrival of "convoy" mode, the official multiplayer game of Euro Truck Simulator 2 and American Truck Simulator. Trucks can eventually run dedicated servers.
Remember the difference with starting a standard multiplayer session: a dedicated server is designed to work constantly, even without an online player. This means that players can freely join a session to continue their work and freely leave whenever they want. You can also run a dedicated server without owning the game or DLCs.
How to install ETS 2 or ATS dedicated server?
It's very simple, just go to your Steam library and point to the tools there:
You will see "Euro Truck Simulator 2 Dedicated Server" or "American Truck Simulator Dedicated Server" in your list. It is enough to run the installation (about 400 Mo).

How to configure ETS 2 or ATS dedicated server?
After installation, you need to go through the configuration box. And even if there is nothing insurmountable there, it gets a little complicated. The server needs your "installation profile" (to simplify things). This involves extracting 3 files from your game (server_config.sii, server_packages.sii and server_packages.dat).
File server_config.sii is the most important. It contains the session description and configuration, connection port information, connection token, and a list of moderators (ports and connection token must be different for each concurrent session instance).
To create it, you need to run the game in Developer mode with console access. To do this, you need to edit the file config.cfg It is located in the directory "My Documents\Euro Truck Simulator 2\" for ETS 2 (or "My Documents\American Truck Simulator\" for ATS) with a text editor such as notepad. Find the line containing the term g_console "0" and change the value "0" to "1". do the same for g_developer "0" g_developer will become "1". Save the file and launch the game.
You must run the game in the base environment (Europe for ETS 2, America for ATS). Once inside the game, press the ² key (located at the top left of your keyboard) to open the developer's command prompt. Now you need to run the command "export_server_packages" (without the quotes) to create the 3 files mentioned above. They will be created in the directory "My Documents\Euro Truck Simulator 2\" for ETS 2 (or "My Documents\American Truck Simulator\" for ATS).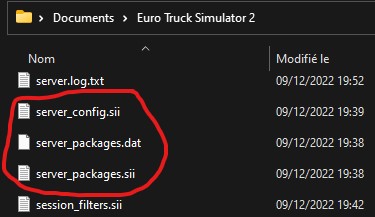 At this point, the dedicated server can be started. But you need to customize it with your lobby name, description, welcome message for players, password, maximum number of players (currently limited to 8) and especially the number of connection port.
All this information is in the server_config.sii file, which you will need to edit with a text editor like notepad. An example of the contents of this file: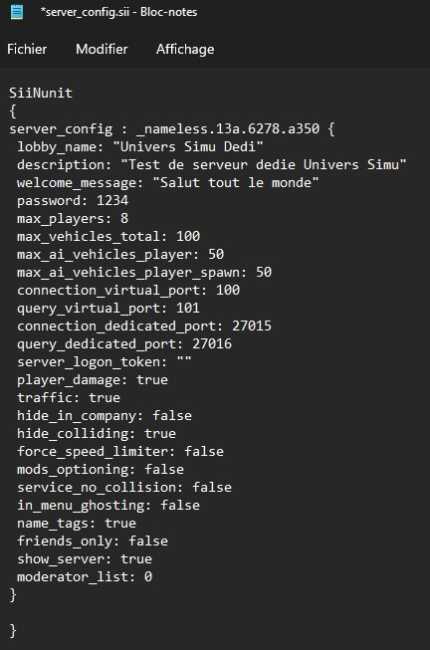 It is very important to note the port numbers because you will need to configure port forwarding on your internet box. The access port number must be open and must indicate the (local) IP of the server PC. If you don't know what we're talking about, click here to see an example on Orange's ADSL box. This manipulation of port opening/forwarding is common for setting up game servers.
Normally, if you've configured your server and opened your router's ports, you should be able to run an ETS 2 or ATS custom server directly through Steam without encountering any errors.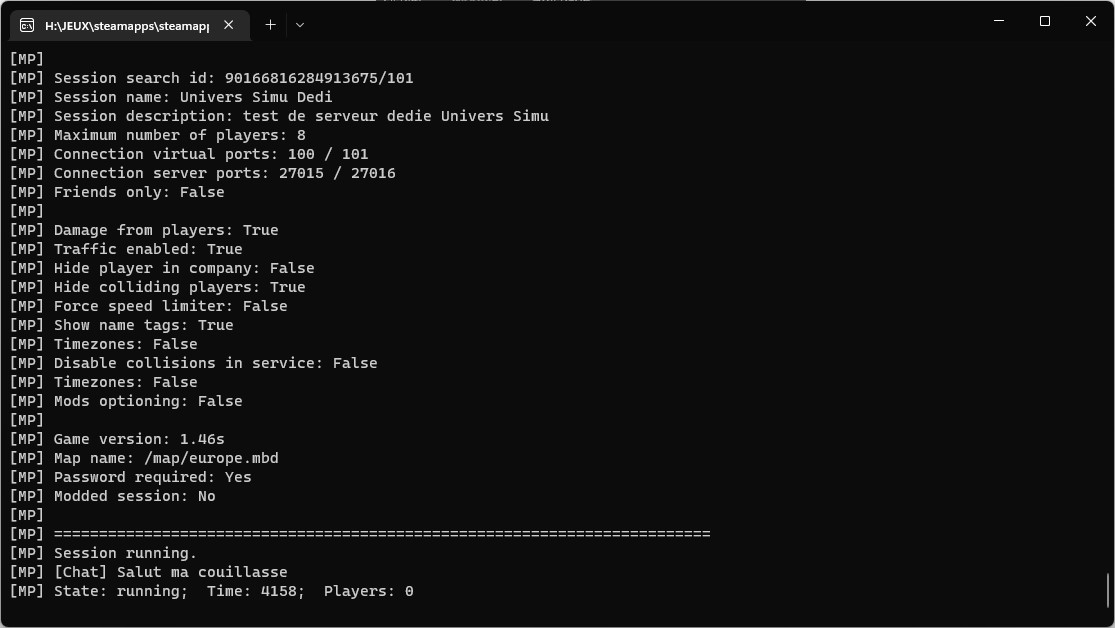 If everything is ok, you should find the game in the "convoys" menu of your game. "Don't forget to use advanced filtering" so that it only finds "Dedicated server" and your server more easily. All that remains is to hit European or American roads 24/7 with your friends.